Glasgow in 2024 is a serious bid for Worldcon but we also want to make the process fun both for our staff and our supporters. This page provides information on some of the more creative and light-hearted initiatives we have undertaken to date.
Jump to: Yarn – Alba Aether · Colouring Competition · The Glasgow in 2024 Question Contest
Yarn – Alba Aether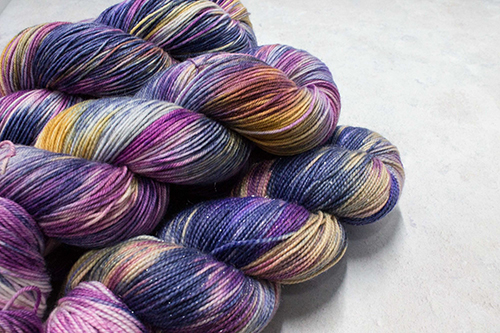 Knitting, crocheting and quilting is just one of the fandoms that intersects with ours, and we are delighted that the wonderful Lola of Third Vault Yarns has created this utterly gorgeous colourway in support of the Glasgow in 2024 bid.
The variegated colourway is inspired by the bid artwork and by our proposed Glasgow venue, and part of the profit from each skein goes towards supporting the bid. The name Alba Aether was selected through an open competition which was won by Roisin McLaughlin. We had 80 submissions, which we shortlisted down to five finalists, with Lola making the final decision on the winner. We were hugely impressed with the way entrants strove to blend the various elements of place and purpose together, while also being true to the gorgeous colours and hues present in the yarn itself.
You can order skeins of the Alba Aether yarn in DK and sock weights from the Third Vault website. (Yarn specifications can be found on the same page). So feel absolutely no guilt about feeding the stash with this beauty as you will also be helping support Glasgow in 2024 as you make your shawls, blankets, jumpers, hats, gauntlets, gloves, and all the other magic that will fly from your hooks and needles.
We will be excited to know what magic you create so please make sure to tag us in your projects and join our Ravelry group – Glasgow in 2024 Crafting a Worldcon. (Note: you need to have a Ravelry account to access the group).
Colouring Competition
We ran an extremely popular Colouring Competition in Spring 2020 to help keep our followers and families busy and creative during this time of social distancing.
There were three different drawings from our talented, Hugo-finalist fan artists Sara Felix and Iain Clark to choose from, and three age categories for entry: under 10 years of age; 10 to 16; and over 16.
We received some truly gorgeous entries – you can see them all on our Facebook page. We were seriously impressed by the enthusiasm and artistry on display, and Sara and Iain had a tough job to choose the winners! Eva, Samuel and Antiqueight each received a bounty of art supplies – along with tons of honour and glory.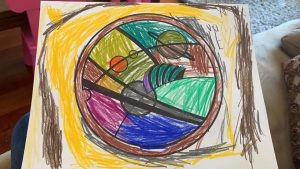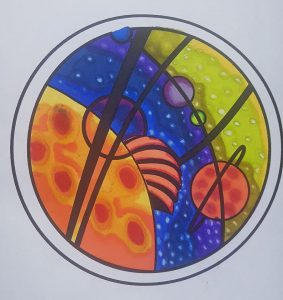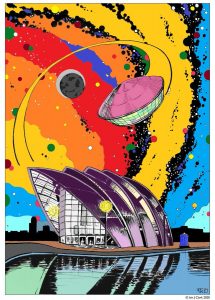 The Glasgow in 2024 Question Contest
An important part of any Worldcon or bid is its 'information team', answering questions and providing information about the bid/convention and about Worldcons in general. In June and July 2021, we invited people to put questions to Glasgow in 2024's own Team Info – serious questions, fun questions, even completely off-the-wall questions – and we offered prizes in a range of categories for the best entries.
We received close to two dozen fantastic questions – some amusing, some thought-provoking, and some both. We were grateful to everyone who entered: the questions really helped us understand what questions potential attendees might have, and how we can improve our communications. You can find out the winners, and their questions, on the Question Contest page.