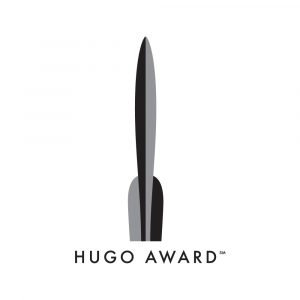 The Hugo Awards are the most prestigious award in the science fiction genre, honouring literature and media as well as fan activities. The awards were first presented in 1953, and have been presented every year since 1955.
The Hugo Awards has more information and details of past winners. The award categories, and their definitions, are set out in the WSFS Constitution.
If our bid is successful, Glasgow in 2024 will be administering the 2024 Hugo Awards, celebrating activity and works released for the first time in 2023, along with the Lodestar Award for Best Young Adult Book, and the Astounding Award for Best New Writer. We will also have the option to administer the 1949 Retro Hugos similarly celebrating the best activity and works of 1948. (The Retro Hugos are presented retrospectively for years in which no Hugos were presented at the time).
Hugo Voting – YOUR Chance to Decide!
Hugo Award voting takes place in two stages: nomination and final ballot.
In the nomination stage, each eligible member of the current and previous Worldcon submits up to five nominations per category on a write-in basis. These are tallied, and the six nominees with the most support are taken forward to the final ballot.
In the final ballot, each eligible member of the current Worldcon ranks the finalists in preference order. The ballots are then combined using a preference voting algorithm to determine the winner.
The Hugo Awards are chosen by all the eligible members of the Worldcon. Subject to having joined the convention by the relevant deadline, members of a Glasgow in 2024 Worldcon will therefore be able to nominate for and choose the winners of the 2024 Hugo Awards (and potentially the 1949 Retro Hugo Awards) and also to nominate for the 2025 Hugo Awards.
The Hugo Award Ceremony
The Hugo Award Ceremony is the highlight of any Worldcon – the OscarsTM of the science fiction world.  Attending Members will have the opportunity to attend this event and experience the tension and excitement as the winners are announced and the famous rocket-shaped trophies are handed out.
If our bid is successful, we will be holding the Hugo Award Ceremony in the 3,000-seat SEC Armadillo. This unique Glasgow landmark was designed by renowned architects Foster and Partners, and offers exceptional viewing and acoustics from all three seating tiers.