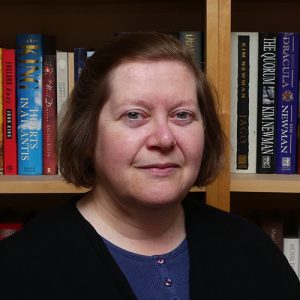 Claire Brialey and Mark Plummer
Claire Brialey and Mark Plummer (she/her and he/him, respectively) have been pillars of the science fiction and fantasy fan community for years. Their exemplary work in organising and running fan conventions, as well as in fan-writing, fanzines, and fan-history, has enriched the lives of countless lovers of the genre.
Biography
Claire Brialey and Mark Plummer grew up near the same town but met at an SF pub meeting in London in 1986. Reading SF and attending conventions led them both to committee work (ZZ9 Plural Z Alpha, the UK-based Hitchhiker's Guide society, followed by the British Science Fiction Association, and for Mark, the Friends of the SF Foundation), and to separate terms as judges for the Arthur C Clarke Award. Claire has also been part of the jury for the Rotsler Award for fan art.
They have worked on conventions, individually and together, for decades – from small fun conventions, through Corflus (fanzines) and Conrunner, to UK Eastercons and Worldcons – often organising programme and editing publications; Mark ran Eastercon dealers' rooms for over ten years and Claire has been on enough con committees to have lost count of how often she's given up con-running afterwards. Their original fishlifter came from Intersection in 1995.
Claire is also a long-term minion for the fan funds, and Mark spends an increasing amount of time on fanhistorical research. They are enduring members of ANZAPA despite not having lived Down Under. Alongside apazines, personal fanzines and fanwriting collections, they've been editing their fanzine Banana Wings together for the best part of thirty years, although they only merged their fanzine and book collections in 2004.
They've won a plethora of fanzine awards, both together and for individual fan-writing, including Claire's 2011 Hugo. Mark won the Doc Weir Award in 1996, and they were joint guests of honour at the UK Eastercon in 2001. The dates in this make them feel older than they'd like to. Both Claire and Mark still enjoy reading, watching, and discussing science fiction.
Further Information can be found at: