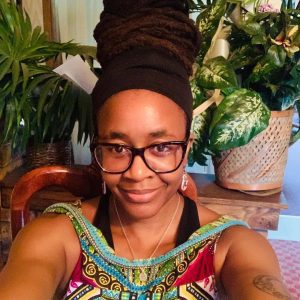 Nnedi Okorafor
Nnedi Okorafor (she/her) is an internationally award-winning author who explores her Nigerian heritage through her Africanfuturist and Africanjujuist novels and short works. She is also a comics writer who has written a number of popular series for Marvel's Black Panther, along with her own Hugo and Eisner-Award-winning graphic novel, LaGuardia
Biography
Nnedi Okorafor is an international award-winning New York Times bestselling novelist of science fiction and fantasy for children, young adults and adults. Born in the United States to parents who had immigrated from Nigeria after the Nigerian Civil War prevented them from returning, Nnedi grew up in Chicago, Illinois, but often travelled to Nigeria to spend holidays with her family there, which gave her a strong connection to her roots.
As such, Nnedi is known for drawing from African cultures to create captivating stories with unforgettable characters and evocative settings. She writes Africanfuturism and Africanjujuism. Nnedi has received the World Fantasy, Nebula, Eisner and Lodestar Awards and multiple Hugo Awards, amongst others, for her books.
Nnedi's works include Who Fears Death (in development at HBO for a TV series), the Binti novella trilogy (optioned and in development with Media Res), The Book of Phoenix, The Nsbidi Scripts Series, and Lagoon. She is the winner of Hugo, Nebula, World Fantasy, Locus, and Lodestar Awards, and her debut novel, Zahrah the Windseeker, won the prestigious Wole Soyinka Prize for Literature.
Nnedi has also written an Africanfuturist comic series LaGuardia (winner of the Hugo and Eisner Award); comics for Marvel, including Black Panther: Long Live the King and Wakanda Forever (featuring the Dora Milaje), and the Shuri series; and her short memoir, Broken Places & Outer Spaces.
Upcoming projects include co-writing the screenplay for an Amazon Prime adaptation of Octavia Butler's Wild Seed, produced by Viola Davis, and co-writing the screenplay for the upcoming adaptation of her Binti trilogy for Hulu.
Nnedi holds a PhD in Literature, two Master's Degrees (Journalism and Literature) and lives with her daughter and family in Phoenix, Arizona.
Find Nnedi on social media at:
Further Information can be found at: