We're starting the New Year with an introduction to one more committee member.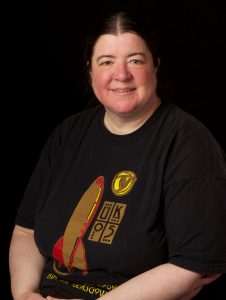 Terry Neill lives in Connecticut on the East Coast of the United States. As Deputy Head for Registration she puts together reports of who our supporters are and backs up Clare Boothby as Registration Head.
Terry started attending Science Fiction Conventions at Orycons and Westercons in the 1980s. She has volunteered at various Worldcons since her first – ConFrancisco in 1993 – doing jobs such as badge checking, running errands, bag checks at the art show, autograph line wrangling, and other at-con roles. She volunteered at Ops at Loncon III and Sasquan. She was recruited to be Hugo Help Desk for MidAmericon II and has had a Staff role at every Worldcon since then. She was Deputy Division Head for Exhibits for Worldcon 75, Sergeant-at-Arms at the Business Meeting at Worldcon 76 and Dublin in 2019 and also on the Facilitation Staff and helped cover the Hugo Help Desk for Dublin. She was Hugo Help Desk at CoNZealand and also helped at-con with Registration. She will again cover the Hugo Help Desk and other Hugo Area tasks as assigned for Chicon 8.
She enjoys the online con culture that has popped up since the pandemic started and often volunteers to oversee the Discord dialogue for other conventions. Her home con is Boskone where she helps assemble the pocket programme on Thursday nights and works Registration during the con.
Aside from SF conventions, she has been active in the Society for Creative Anachronism since the 1970s and has held most local group officer roles from Herald to Seneschal to Chatelaine and also is a frequent event steward. She's part of the Crack Fiber Demo Team in the Barony Beyond the Mountain in the East Kingdom–demonstrating weaving on a Warp Weighted Loom. She holds several kingdom-level awards and is a Companion of the Order of the Laurel in Viking studies. For several years she was Treasurer and President of the Longship Company in Maryland. (Go sail a longship! Longshipco.org!) She crosses the streams of SFF and the SCA by teaching a Bayeux "Tapestry" Embroidery Technique class at Worldcons.
Terry's favourite authors are: Lois McMaster Bujold, for her rich and textured stories. Every re-read shows something new. Diana Wynne Jones for her breadth of storytelling. Ursula Vernon for relentlessly practical heroines, fluffy romance with corpses, snappy dialogue, and underlying poignant layers. Heather Rose Jones for Fantasy of Manners immersive worldbuilding and Sir Terry Pratchett for humour and humanity. She's the proud owner of a copy of Good Omens dedicated "To Terry Neill from Terry and Neil." The newest show she's seen is The Imperial Coroner, a Chinese detective drama set in late-Tang Dynasty China. It's not Fantasy but it's really, *really* good. She is currently re-watching Max Headroom.
When she isn't immersing herself in the past or the future, Terry collects requirements and tests software changes for a healthcare company. She lives in eternal hope that American politicians will get their act together and eliminate her job.
Terry is very much looking forward to Worldcon returning to Glasgow and excited to see what fun committee comes up with. The bid committee has been so dynamic and thoughtful and the next Glasgow Worldcon, should you all vote for us, will be stuffed full of new and fun activities.
We are the Bid Team for Glasgow in 2024 – A Worldcon for Our Futures. We are part of the vibrant Worldcon community. We would love to welcome you to Glasgow and the Armadillo Auditorium for the 2024 Hugo Awards. Please consider supporting us.