I've spent the last few weeks co-ordinating a whole bunch of lovely posts for Disability History Month, which takes place in the UK from the 18th of November to the 20th of December, which you'll get to read over the course of the month. To kick things off, I wanted to share an aspect of disability representation that is very close to my own heart – some of my favourite nerdy books written by autistic authors, featuring autistic characters.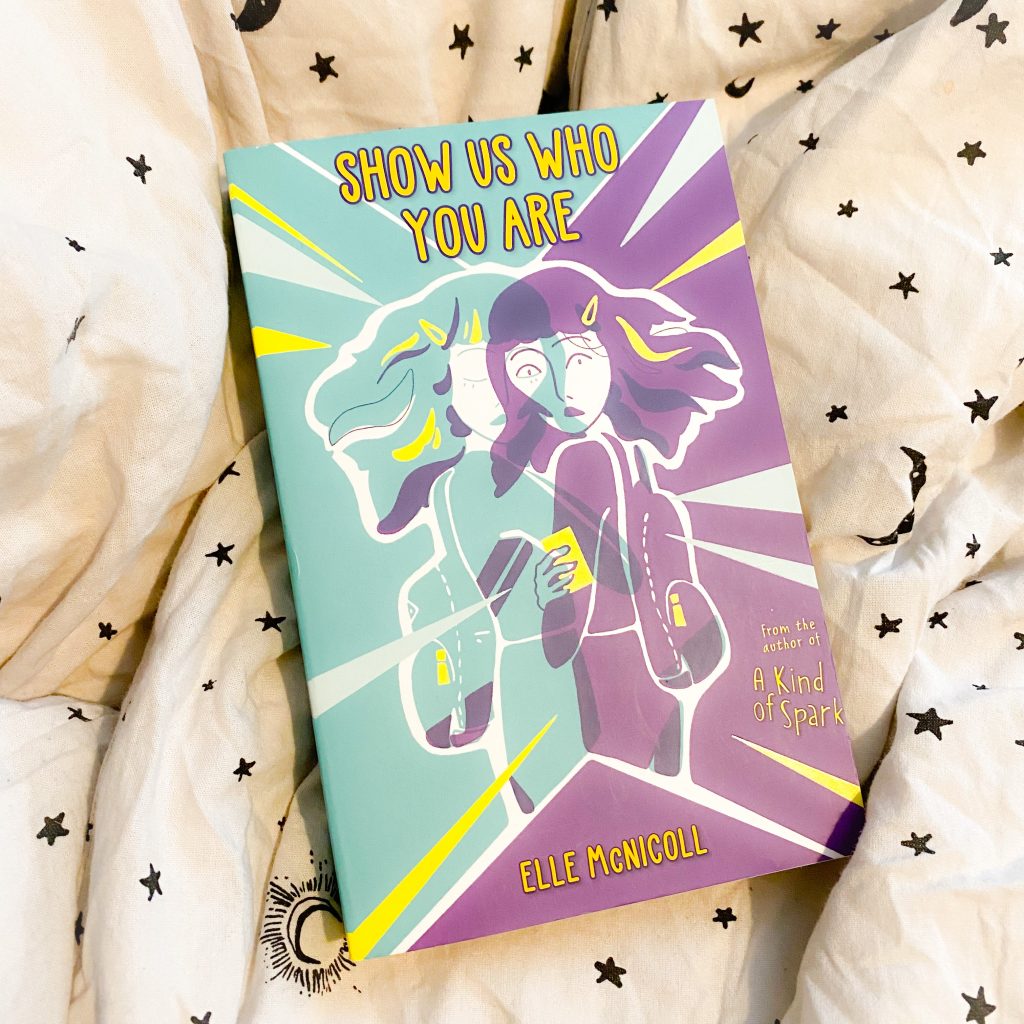 Starting with one aimed at a younger audience, a wonderful dystopian story with a friendship between two neurodivergent children at its heart: Elle McNicholl's second novel, Show Us Who You Are (Knights Of, 2021). Autistic Cora becomes fast friends with Adrien who has ADHD, partially connecting through their shared enthusiasm for the things that excite them, the sort of hyper focus that tends to come with neurodivergence. This friendship was extremely meaningful for me, as that really is how I tended to connect to people, both when I was younger, and to a lesser extent today. It really is one of the best depictions of this sort of friendship I've ever read, and I almost cried from feeling seen. But Show Us Who You Are also is a brilliant science fiction story for the middle grade audience. It features the Pomegranate Institute, where holograms of people are created, as a sort of immortalisation, though, Cora soon realises, Pomegranate also aims to improve the holograms rather than accurately depict its subjects – straighten out any kinks, especially 'undesirable' qualities such as autism or ADHD. However, Pomegranate hasn't reckoned with the determination of Cora and her moral compass, and she will not give up. I highly recommend checking this one out – it's a great read for both children and adults alike. McNicholl's debut, A Kind of Spark is just as brilliant, and has been doing extremely well – it's just been released in the US and an adaptation is in the works. And I've heard rumours that we should all look out for her third book, which will be a fantasy novel! Find Elle McNicholl on her website here and as @booksandchokers on Twitter, and order a copy of Show Us Who You Are from wonderful indie Portal Bookshop here.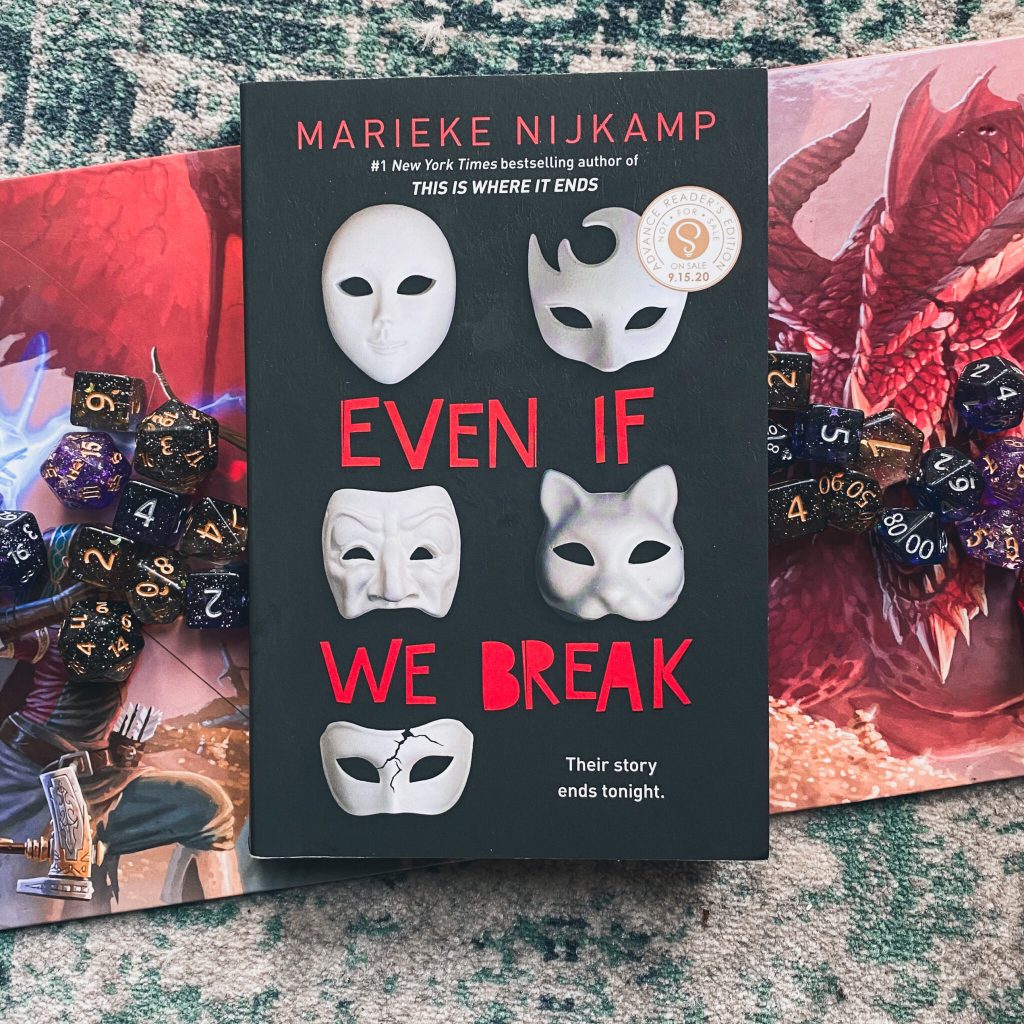 For a young adult audience, my top recommendation would be Even If We Break by Marieke Nijkamp (Sourcebooks Fire, 2020). This is less straightforward SFF – it is a mystery, first and foremost, but one set around a tabletop roleplaying game, so perfect for us geeky people. In broad terms, this is a locked-room mystery, in which a group of teens go to a cabin in the woods for one last game before the end of their high school time, and likely the end of their group. The story not only features an autistic character, but also characters with physical disabilities and queer characters, so it's a brilliant one to read for Disability History Month. As the author themselves is gender non-conforming, autistic and has EDS, these portrayals are well-crafted and nuanced rather than being there merely for show or harmful. And that is where the book's great value lies in my opinion – Nijkamp's characters happen to be disabled, but disability is not their whole story. These are amazingly crafted characters with aims, dreams and elaborate backstories that only shimmer through in the book itself. There is a world behind the story that will help many teens feel seen, and that is incredible. You can find Marieke Nijkamp on their website here, and as @mariekeyn on Twitter. Copies of Even If We Break can be found via indie Gay's The Word here.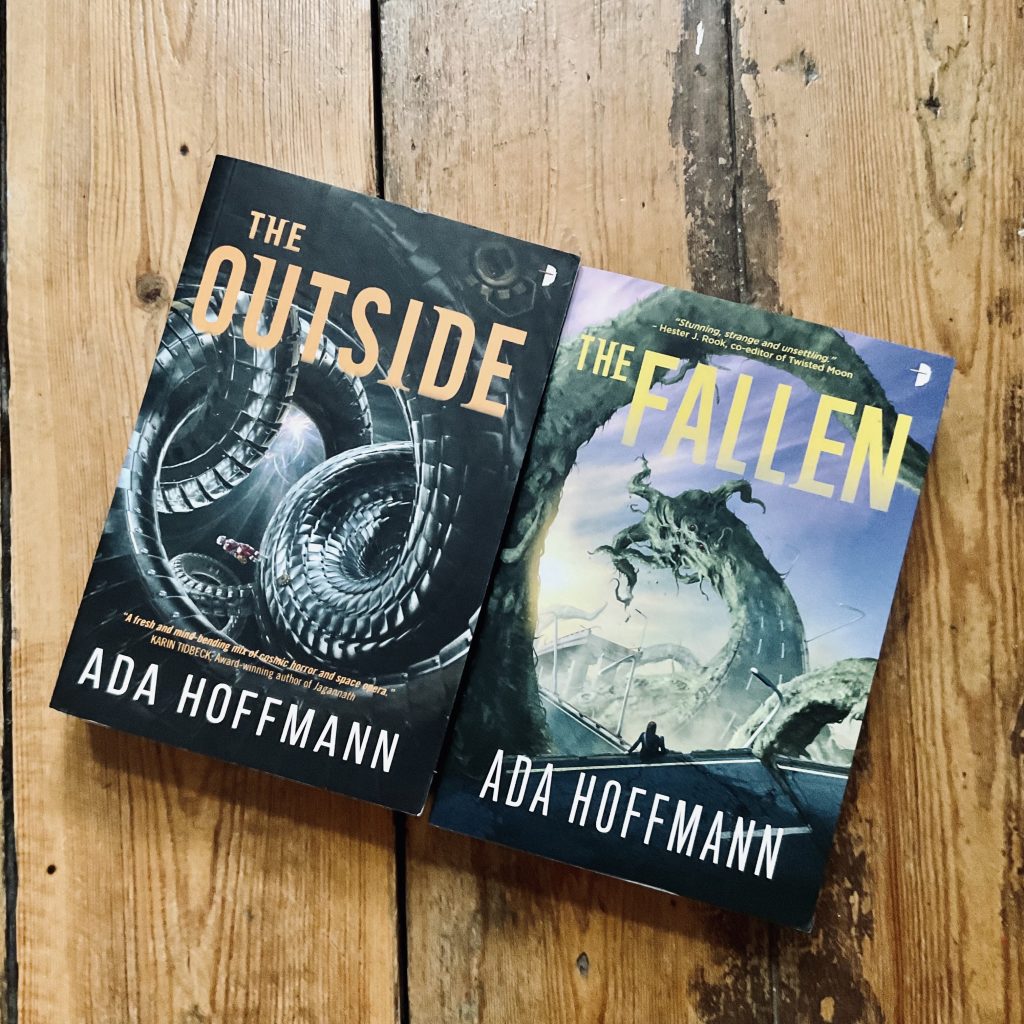 And last, but by no means least, we have Ada Hoffman's brilliant duology The Outside and The Fallen (Angry Robot, 2020/2021). These are adult science fiction novels that captured my heart this summer, a thrilling story of angels, so-called Gods and survival in space. The main character, Yasira isn't a caricature or a broken person – she is a scientist who faces an added set of challenges due to her disability – AND it made me very happy to see her in a romantic relationship with girlfriend Tiv. The books are compelling and keep you up late reading as the characters undergo trials and struggles, and face betrayals from unexpected places. The duology mixes fun space opera with smart science fiction, and blends them to create something unique that really stands out. In the richly-built world, the humans have engineered their own overlords through AI gone wrong, and Yasira and her team have to work to retain their independence and survive.
Fast-paced, queer, diverse and unique, what more could you want from books – and The Outside and The Fallen have convinced even me, the most reluctant of science fiction readers, to be more open to reading far more of the genre. Ada Hoffman tweets as @xasymptote, and you can find her website here. Portal Bookshop will be more than happy to supply you with The Outside here, and The Fallen here.
This article was brought to you by Fabienne Schwizer in association with Promotions.

Fabienne Schwizer is an SFF nerd who reads too much for her own good and rambles about books in various outlets, most commonly her blog, Libri Draconis. She loves meeting fellow genre readers and can't wait to go to cons again.

We are the Bid Team for Glasgow in 2024 – A Worldcon for Our Futures. We are part of the vibrant Worldcon community. We would love to welcome you to Glasgow and the Armadillo Auditorium for the 2024 Hugo Awards. Please consider supporting us.