The Armadillo Auditorium is part of the Scottish Event Campus in Glasgow. If we win the bid to host Worldcon in 2024, this is where we would hold large events, such as the Hugo Awards Ceremony. It did not get its name by accident …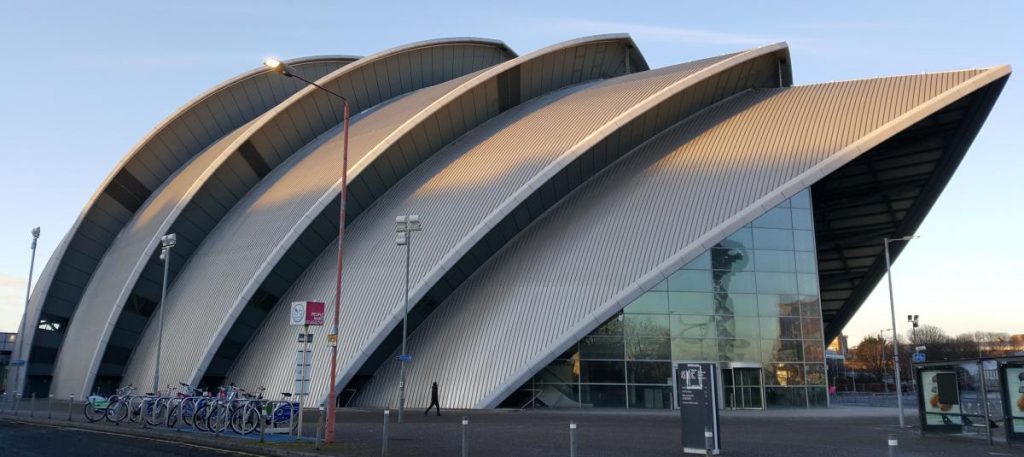 So, naturally, we've had armadillos on our minds lately. Armadillos are mammals native to the Americas, and their name means "little armored one" in Spanish.
Meet Angus. He's been made by Miki Dennis, who also created the crochet pattern to make your own if you want. Thanks Miki, we think he's delightful!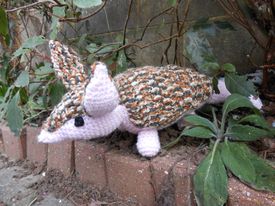 This is what Miki has to say about him:
Here's Angus in front of his birth house in England. He hopes to go on a big tour around the planet soon to make friends and invite them to join him in his second home in Glasgow on the River Clyde in 2024. You need to be a little bit experienced with crochet to make this pattern, but hopefully you will be able to produce one of his brothers or sisters.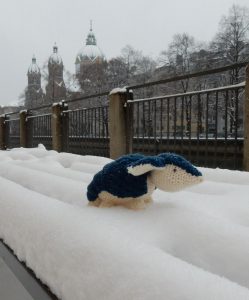 I have test-driven the pattern, so here's Berta on a walk through Munich on the first snow day of the year.
Of course, there are lots of other ways to make armadillos.
Clyde started his life as a dollar bill.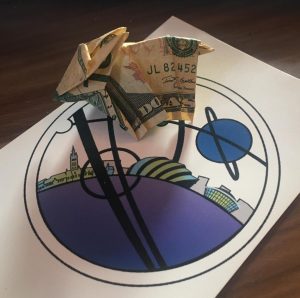 Thanks to Marguerite Smith, Vice Chair of the Bid Committee, for this origami version!
Here are instructions on Youtube to make your own, and the internet of course has several other instruction sets for making origami armadillos.
Hmm, Angus, Berta, Clyde … you can see where this is going, right?
Can you help us to create a whole alphabet of armadillos?
Here's what we invite you to do:
Create an armadillo in any way you'd like.
Give it a name.
Take a picture and show us from where it would start on the long (or not so long) road to Glasgow.
Post your picture on social media using the Hashtag #ArmadillosABC #GIn2024Crafts #GlasgowIn2024.
Here are some ideas to get you started: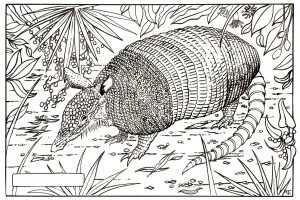 Colouring pages by our artists Sara Felix and Iain Clark – these could also act as an inspiration for something completely different? – Lace, collage, print, decoupage  …
Origami, obviously.
How about a Lego armadillo?
Sculpture? Clay, wire, papier-mâché…
Armadillo cookies?
Drawing/painting
… surprise us!
There may be a special prize for the entry that most surprises and delights us! That's just how we roll here at Glasgow in 2024.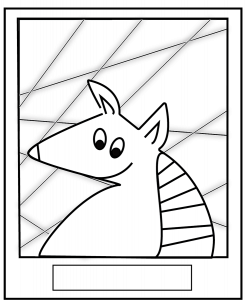 There will also be a random prize drawing once we have a whole alphabet (at least 26) of armadillos. We have some Glasgow in 2024 swag on offer.
This crafty project will initially run until Easter, when we'll show off our Alphabet of Armadillos at ConFusion, this year's virtual Eastercon. Come join us there!
To keep up with what's happening with this project and all other things related to the Glasgow in 2024 Worldcon Bid, follow us on social media (@GlasgowIn2024 on Twitter, Instagram and Facebook, or search Glasgow In 2024 on YouTube) or join our Ravelry group.
By sharing your work with us you give permission to the Glasgow in 2024 Worldcon Bid to use your picture for promotional purposes.
This article was brought to you by Constanze Hofmann, Craft Co-ordinator, Promotions Team.

We are the Bid Team for Glasgow in 2024 – A Worldcon for Our Futures. We are part of the vibrant Worldcon community. We would love to welcome you to Glasgow and the Armadillo Auditorium for the 2024 Hugo Awards. Please consider supporting us.