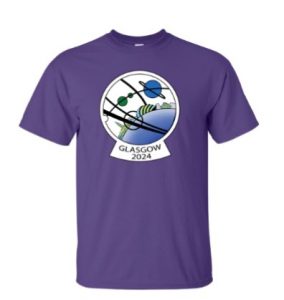 We are delighted to have partnered with Offworld Designs for our Bid Merchandise. Offworld have worked with many previous conventions and Worldcons including Interaction (Glasgow,  2005), Loncon 3 (London, 2014) and Dublin 2019 just last year.
Offworld are currently offering Bid T-Shirts for Glasgow 2024 featuring our bid logo, for $22 plus shipping. You can order these directly from the Offworld website. We also have a limited number of shirts available for direct sale at selected bid tables once in-person conventions restart.
We plan to have additional designs available once we become a seated convention (if our bid is successful) in Autumn 2022.