Glasgow in 2024 has been thinking about the crowning glory of SFF fandom.
Clearly, it is its fans!
But what is it that makes SFF fans, Worldcon fans, so amazing?
There are so many qualities to choose from including, but not limited to:
Passionate; Imaginative; Enthusiastic
Dedicated; Dynamic; Diverse
Creative; Colourful; Crafty
Welcoming; Hopeful; Tenacious
Communicative; Curious; Collaborative
It is all of these things and more. Perhaps most amazingly that, in the midst of a global pandemic while we have been kept apart, unable to come together in person in our fandom family, SFF fans, con-runners, con-goers, old hands, and new hearts, have risen to the challenge as a global community. We have explored new avenues, innovated alternative solutions, in order to have virtual spaces – readings, meet-ups, cons, and Worldcons! – where we can share our joys and be present with each other.
That is a sovereign achievement and Glasgow in 2024 has decided to mark this by running a right royal giveaway!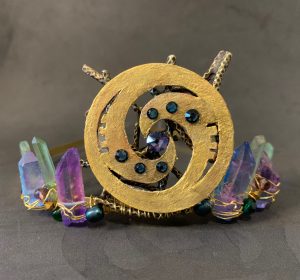 Sara Felix – the amazingly talented and Hugo Nominated Fan Artist – has designed a bespoke Glasgow in 2024/ CoNZealand Tiara, and we are going to bestow it to one lucky supporter.
The design of the Tiara is inspired by the combination of Worldcons and will be diadem of delight to grace the brow of any fan. Sara talked us through her process in an amazing interview available on our YouTube channel.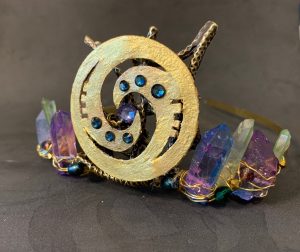 We hope, if seated, to continue this tradition with each Worldcon right up until Glasgow in 2024 – where we will run an exhibition of the tiaras and the creative process behind them. And if you pre-support you will be both making that happen and in with a chance of winning! Community building plus bling – what's not to love?
How to win:
If you have pre-supported Glasgow in 2024, at any time – from our launch until the end of CoNZealand – and at any level – pre-support, young adult friend, friend, super friend – then you will be eligible for this giveaway.
To pre-support, if you haven't already, all you have to do is sign up on our webpage!
Once the Dog is Dead and the Cat is Comatose, we will randomly select one lucky fan from our pre-supporter list. The tiara will then be shipped to you wherever you are, for your ruling pleasure: long in fandom may you reign with the knowledge that you have helped Crown the Cons!
If you've any questions or queries about the competition then email promotions@glasgow2024.org
If you want to check if you've supported us then check our supporters list