The bid team for Glasgow in 2024 Worldcon are very enthusiastic about Sci-Fi and Fantasy books. We love to share this passion with our fans and supporters. So we are inviting you to join us for some informal Book Club discussions.
We plan to run these Book Clubs at conventions over the next while, online or in-person when it is safe to do so.
Our first Glasgow in 2024 Book Club will be at Balticon 55 on Saturday 29th May 2021.
Balticon 55 is a free virtual convention, May 28-31, 2021.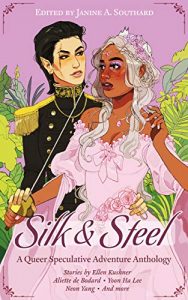 Our chosen book for this event is:
'Silk and Steel' : A Queer Speculative Adventure Anthology',
with stories from Ellen Kushner, Aliette de Bodard, Yoon Ha Lee and more.
Published 28 Nov. 2020 by Cantina Publishing.
Available on Amazon (in paperback or Kindle) or your preferred supplier.

If you have not read any of this wonderful collection, you are most welcome to join in our discussions, and to discover something about it.
We will also have an opportunity to share a brief update on the Glasgow in 2024 bid, and for you to ask us any questions.
Keep an eye on our social media for more Book Clubs.
We are the Bid Team for Glasgow in 2024 – A Worldcon for Our Futures. We are part of the vibrant Worldcon community. We would love to administer the 2024 Hugo Awards for you, from Glasgow.
Please consider supporting us.