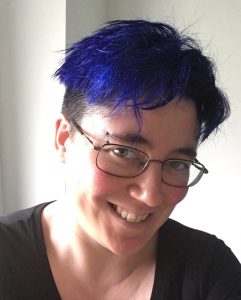 As a non-binary person, I love it every time I read a story that includes non-binary characters (and especially non-binary main characters). There's more of those stories than there used to be, but it can still be hard to find them, especially given the huge field of SFF short stories coming out every month — it's wonderful but can be overwhelming! Here, in no particular order, are a few of my favourite SFF shorts with non-binary main characters from the last couple of years:
"The Frequency of Compassion", by Merc Fenn Wolfmoor
This is a lovely story about first contact, friendship, support, and compassionate aliens, with an agender (and autistic) protagonist. I love the AI, Horatio, and the relationship between the MC, Kaityn, and Horatio, and Kaityn's joy at encountering the alien lifeform is uplifting. Beautiful and hopeful.
"Why We Make Monsters", by Rem Wigmore
A sweet flash fiction about hope, relationships, and a slightly strange sort of activism.
"Just Enough Rain", by P H Lee
This is a little bit of a cheat, as whilst a major character is non-binary, the MC isn't; but it is so utterly delightful that I wanted to include it. The family of the MC, Anat, are friends with God — God as a somewhat awkward real person, that is, not (just) a spiritual being/concept. It reads like a rom-com of sorts, and it has some thoughtful things to say about who people are, language, knowledge, and the idea of a purpose in life. Snappy dialogue, generally adorable.
"Gender and Other Faulty Software", by John Wiswell
Told in the form of diary/log entries, by a non-binary MC trying to fix what turns out to be a non-binary activist spaceship. A great flash piece that made me grin.
"The Immolation of Kev Magee", by L X Beckett
A climate change / post-eco-collapse novelette. Breeze, the MC, wants to become a filmmaker/sim star, whilst taking care of themself, their friend/girlfriend, and the baby they've accidentally picked up, and navigating the gig economy of a geoengineering project funded by a billionaire. I like Breeze's hope/optimism and their management of their mental health issues; and I liked the overall balance of this near-future society (neither utopia nor dystopia, just people trying to find ways to solve problems).
"A World To Be Ourselves", by Jae Steinbacher
I read both the MC and the other major character in this as non-binary but the MC might be a trans boy. It's a YA horror/ghost story (or at least horror-adjacent; I enjoyed it and I am not good with horror proper!), alongside the MC trying to explain their gender identity to their parents. The writing is great, and the end is hopeful.
"For Successful Haunting", by Jessica Reisman
This one is definitely a ghost story. Sin haunts the gang of men who come to stay in their inn; and gets their revenge.
"The Nine Scents of Sorrow", by Jordan Taylor
A beautifully written, delicate story of parenthood, sorrow (and Sorrow), and scents.
"To Balance The Weight Of Khalem", by R.B. Lemberg
A wonderful, poetic story of student refugee Belezal; the floating golden city of Khalem; and Belezal's relationship with Khalem, with the others that they encounter along the way, and with their own sense of their identity. I love the words of this, the weight of it, the turning backwards and forwards, and the ideas of identity that it engages with.
I hope you enjoy them! If you have other recommendations of short stories with non-binary MCs or other major characters, please do share them on Glasgow in 2024's social media channels and tag @GlasgowIn2024
*************************************************************************************
This article was brought to you by Juliet Kemp in association with Promotions.

Juliet Kemp (they/them) is a queer, non-binary, writer. Their short fiction has appeared in venues including Analog and Cast of Wonders. Their SF novella A Glimmer Of Silver is set in a culture with no gendered pronouns. Find them at https://julietkemp.com or https://twitter.com/julietk

We are the Bid Team for Glasgow in 2024 – A Worldcon for Our Futures. We are part of the vibrant Worldcon community. We would love to welcome you to Glasgow and the Armadillo Auditorium for the 2024 Hugo Awards. Please consider supporting us.