Castle. The simple word evokes images of myth and legend, fantastical landscapes populated by the stalwart and sinister characters of lore. Castles have been the sites of some of the more dramatic moments of medieval history, but they have also coloured our screens and dominated our imaginations in the worlds of science fiction and fantasy. From the nearly impenetrable Hornburg of Helm's Deep in Tolkien's The Lord of the Rings to the partially real and completely creepy Castle Dracula, these buildings have established themselves as inseparable from the fantasy and horror genres while simultaneously permeating into the realm of science fiction.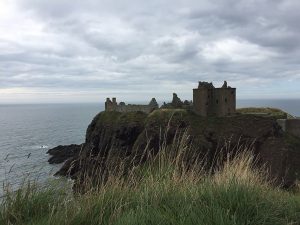 While Glasgow in 2024 may be "A Worldcon for Our Futures", I am here to bring you into the past. My name is Frank 'Jay' Hall, and I am a doctoral researcher focusing on the castles of late medieval Ireland. When not writing for work, I can usually be found with my nose in a book or eyes glued to a screen, and over the years I have noticed some crossover between my work and leisure activities. As such, I would like to invite you to explore some of the real-world castles that have found new lives in the world of science fiction and fantasy.
Over the course of several blog posts, I will be introducing you to the history – both real and fictional – of some famous Scottish castles, with a particular focus on those that have been brought into the public eye through science fiction and fantasy on screen.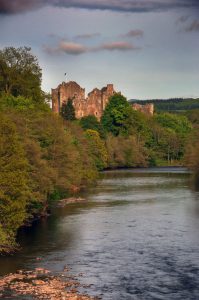 Before we begin, it may be prudent to look at the definition of what a castle is. Scholarly definitions in recent decades have focused around three key criteria for these structures – defence, residence, and administration. In short, we can say that castles are seriously defended elite residences that fulfil an administrative role. While the defensive features may be what immediately comes to mind – moats, high walls, battlements, and drawbridges – many castles spent their entire existence having never been subject to militaristic operations. It is here that one must remember that these structures were residences first – lived in buildings that fulfilled numerous roles in medieval feudal society.
While castles can be found in numerous countries, over two thousand call Scotland home. Though some are known only through the historical record, the remains of many can be seen scattered throughout the landscape today. Scottish castles have not only captured the eye, but captured the imagination, with authors from around the world drawing inspiration from medieval sites throughout the country. With such a wealth of material so close to the site of Glasgow 2024, I look forward to delving into the Scottish castles that have earned themselves a place in the science fiction and fantasy genres.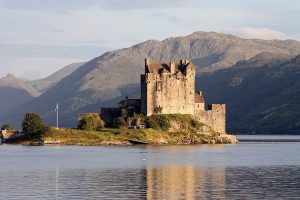 This article was brought to you by Frank 'Jay' Hall, a Doctoral Research Scholar at the National University of Ireland, Galway. Frank's project focuses on the stronghouses and fortified houses of Ireland, investigating their architecture and landscape settings. It seeks to determine the role of the early modern Irish stronghouse in a landscape, historical, and political context and to clearly define the architectural form that was prevalent throughout late medieval and early modern Ireland.

We are the Bid Team for Glasgow in 2024 – A Worldcon for Our Futures. We are part of the vibrant Worldcon community. We would love to welcome you to Glasgow and the Armadillo Auditorium for the 2024 Hugo Awards. Please consider supporting us.