We are fast approaching the end of another year, 2022 is on the doorstep and that means another year closer to those all-important decisions! And what a year it's been for the Glasgow In 2024 bid team. I'm Anna, one third of the Blog team, here to reminisce and to look ahead.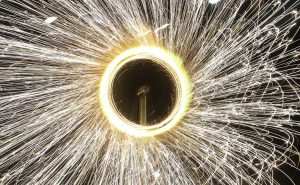 Looking Back
It has been a busy year with bid team members getting to know each other and hatching daring plans (we've even got a who's who going on, though no doubt you will recognise many faces if you are a regular Con-goer). While we haven't always been able to meet in person, the team has organised a whole wealth of digital events, some of which you can check out on the YouTube channel.
The year has also seen a positive deluge of speculative fiction releases for us to sink our teeth into: Denis Villeneuve's cinematic adaptation of Dune, the second season of Netflix's Witcher, the Resident Evil Village game that had us fawning over tall vampire mom, She Who Became the Sun by Shelley Parker Chan, Lucy Holland's Sistersong, and Catherynne M Valente's Comfort Me with Apples are just some of the hotly discussed releases. Found a book or a piece of media that really resonated with you this year – you can share it with us on our socials or by using the hashtag #GIn2024.
My personal favourite among the blog topics this year have been the delve into tabletop games, an area I didn't have much experience with previously. From quick to step-up games like Hey, That's my Fish! to the most elaborate Dungeons & Dragons campaign, it is just such a wonderful world. I have had the pleasure of playing a campaign based on the Dishonored games which had my character do truly questionable things for the sake of a book (it *was* a very good book!).
Looking Forward
But it's not all about reminiscing about the past. After all, Glasgow in 2024 is A WorldCon for Our Futures. So, I've asked the bid crew what they were looking forward to in the new year, and they came back with the following: attending more Cons, either digitally or in person, continuing conversations around making the speculative fiction community more accessible (started this year with the QueerSFF and the Disability History Month tags), and cake, definitely cake!
With those plans clutched tight, we here at the Glasgow In 2024 bid team wish you a very merry New Year and hope to see you all soon.
We are the Bid Team for Glasgow in 2024 – A Worldcon for Our Futures. We are part of the vibrant Worldcon community. We would love to welcome you to Glasgow and the Armadillo Auditorium for the 2024 Hugo Awards. Please consider supporting us.