I recently had a wonderful chat with Dr Hayleigh Barclay about her writing, representation of disability and storytelling. Hayleigh is a Scottish author and she has spinal muscular atrophy. Her debut, Girl of the Ashes, a historical fantasy about vampires was published by Garmoran Publishing in 2020, which she wrote as part of her doctorate in fine arts. She is also a scriptwriter, where she and her writing partner Jamie Hale are currently working on a project which has been optioned by Red Productions. Hayleigh's also focussing on writing short fiction at the moment.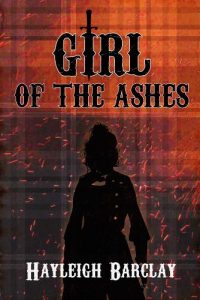 Hayleigh pitches Girl of the Ashes as a feminist gothic thriller about witches and vampires and women coming together to defeat the patriarchy – so basically all the good things in a book! She emphasises that there's a lot of action and sword fighting, which I can confirm as she sent me over a copy of the novel before our chat. It is a compelling story set in the late nineteenth century in Edinburgh around main character Elise, and – crucially for Disability History Month – features Natashka, a wheelchair user. She really was one of my favourite characters in the story, as she was written with such compassion. Natashka is just as much part of the gang as any of the other members – even when it comes to fighting. And that was very intentional on Hayleigh's part. It didn't occur to her while writing how controversial a character in a wheelchair might be to readers. While Natashka isn't the main character by any means, she is an important one, and central to the story, and Hayleigh pointed out that Natashka is very much a character that seems to get reactions out of readers. As one of her favourite characters to write, it was important to Hayleigh that Natashka also had a sense of humour, and that she was in the middle of the action.
Obviously Girl of the Ashes is set in a period where the visibility of disability is not what it is today and so I asked Hayleigh about her research process, or whether she decided to lean into the fantasy aspect of her writing more to depict Natashka. She explains that a large part of her wanted to share the message that despite disability rights having come a long way in recent years, disabled people have a place in the world, they do contribute, they don't need to be patronised or hidden, that they have value. They are people. And Natashka is Hayleigh's way of showing this – when the reader first meets her, she is literally hidden away in a tower, purposefully left ambiguous whether by choice or not – but through her friendship with Elise, she rejoins the world and shows society exactly what she is capable of. Being disabled is only one part of her story. Hayleigh says that there may be something of her in the character, but she's not sure. If it is, it is subconscious – others have often pointed out similarities, she did not intentionally write it in there. She reiterates that disabled people should always be part of the conversation when it comes to disability representation and not spoken over.
I asked Hayleigh to throw some media recommendations out at you all and she provided: She's a huge fan of Kate Beckinsale's Underworld films, and in terms of books she would love for you to read Anno Dracula by Kim Newman.
Hayleigh Barclay is a Scottish author. Her debut novel, Girl of The Ashes was released in 2020 by Garmoran Publishing. You can find her on Twitter as @hayleighbarclay and purchase a copy of her debut via Waterstones here.

We are the Bid Team for Glasgow in 2024 – A Worldcon for Our Futures. We are part of the vibrant Worldcon community. We would love to welcome you to Glasgow and the Armadillo Auditorium for the 2024 Hugo Awards. Please consider supporting us.