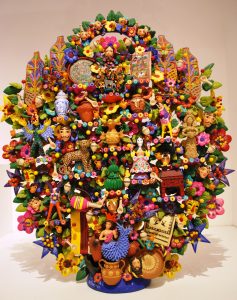 The Glasgow in 2024 Craft Team is going to bring an in-person community craft project to Reclamation, this year's Eastercon. We're very excited and hope you'll be able to join us, but even if you can't, this blog post is going to tell you all about the project and how you can contribute from afar.
The Tree of Life is a symbol found in many cultures and religions around the world. Showing variously the connection between Earth and Sky, the connection between all living things or the cycle of the seasons, there can be many different ways it is depicted. What would the tree look like if it were created by a bunch of SFF fans?
Our goal is to create a wall-hanging of a Tree of Life with all kinds of fantastic lifeforms on it. We will prepare a background cloth with the basic elements on it – earth/grass and sky and the outline of a tree. One of the defining features of the type of Tree of Life we're envisioning is that it shows all kinds of different leaves, flowers and fruits on the same tree at the same time, often with added animals as well. So, we're asking you to create something SFF-inspired for the tree – with sources as varied as fairy-tales and space opera, and to be honest, life on this here planet is often strange enough to qualify as well. I'm envisioning something highly stylized and drawing on naive and medieval art rather than realism.
So, what exactly do we want, and what should it be created from? We're taking the name of Reclamation seriously and are going to reclaim and reuse all the bits and pieces lying around from previous projects – leftover yarn, felt and leather scraps, pretty paper. For example, I've been collecting gift wrapping paper that I found too pretty to throw out, as well as a bunch of small pieces that were left over from when I was wrapping the gifts. Those make great sources for origami and other paper crafts!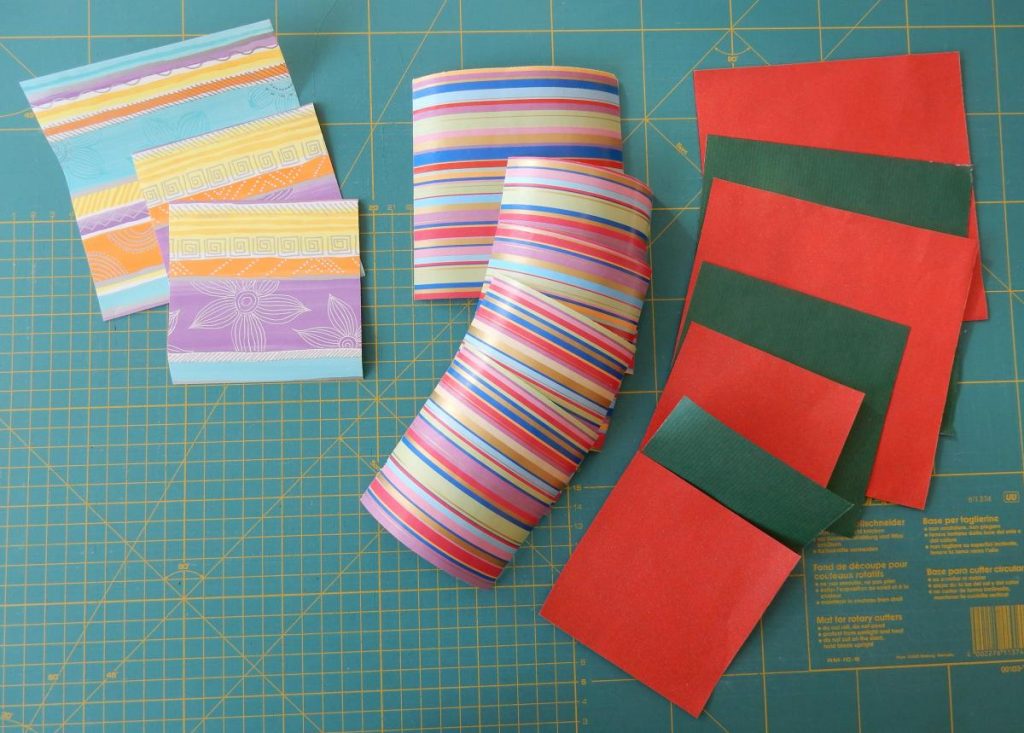 The background fabric will be reclaimed from an old curtain shawl that's been unused for about 20 years now and which I remembered just in time. Repurposing things from other projects is also possible – I've raided my box of elements from the Raksura Colony Tree and will bring a few bits and pieces that fit in here as well.
So, what can you make?
We'd like to see a wide variety of crafts and subject matters represented. The examples below are mainly origami and crochet, but that's because these tend to be our preferred ways to make things. We'd also like to see lots of different fantastic worlds – anything from tribbles to dragons and beyond. While I don't know the exact size of the wallhanging yet, I think it would be good to keep individual elements around the size of a hand, or a standard mailing envelope. Things don't have to be strictly 2D, but try to keep the thickness below about an inch, so things will stay manageable.
Crochet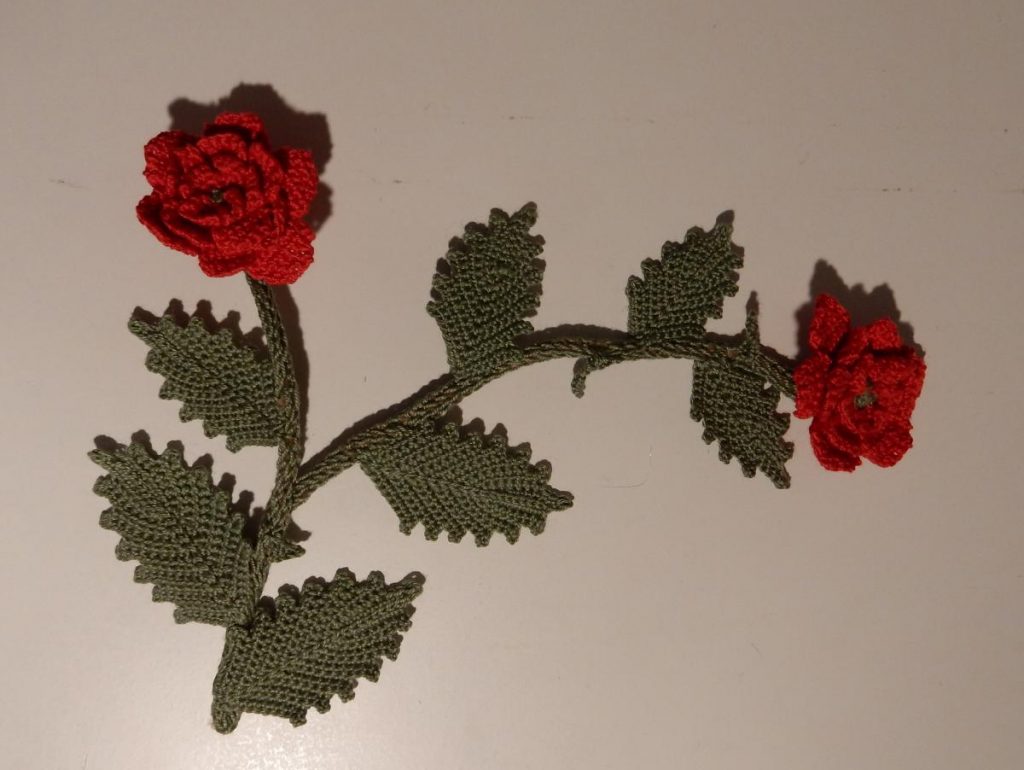 This sprig is a nod to Sleeping Beauty. The branch is spool-knitted around a chenille stick (great for creating stem-like things that are easy to shape and bend), the leaves are an Irish crochet pattern – Irish crochet is a brilliant source, since there are so many fantastic leaf and flower forms to be found, and a lot of historical patterns are free from the Antique Pattern Library. Use slightly thicker yarn and fun colours to make something truly unique! The flower was made from this pattern, and although mine doesn't look quite like the pattern, it fits since it more resembles a hedge rose than a modern cultivar.
Caoillean contributed a few fun crochet animals: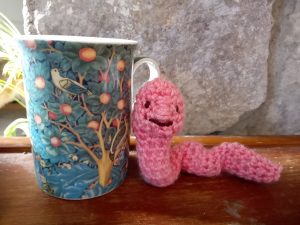 The worm was made using this pattern, and the snail is from that one.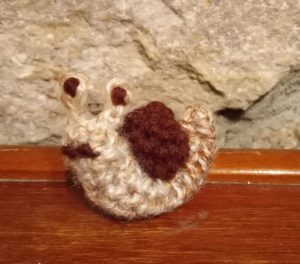 This site has a few more knit and crochet leaf patterns, and here are some knitted strawberries that could be made a lot more fantastic with fun colours.
Paper Crafts
Paper is another great material for making all kinds of things. I made this little butterfly by pleating some of my pretty striped wrapping paper, using a chenille stick for the body and to hold things together.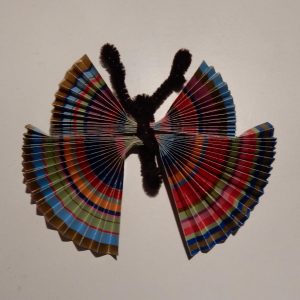 Origami is another great way to show off pretty paper: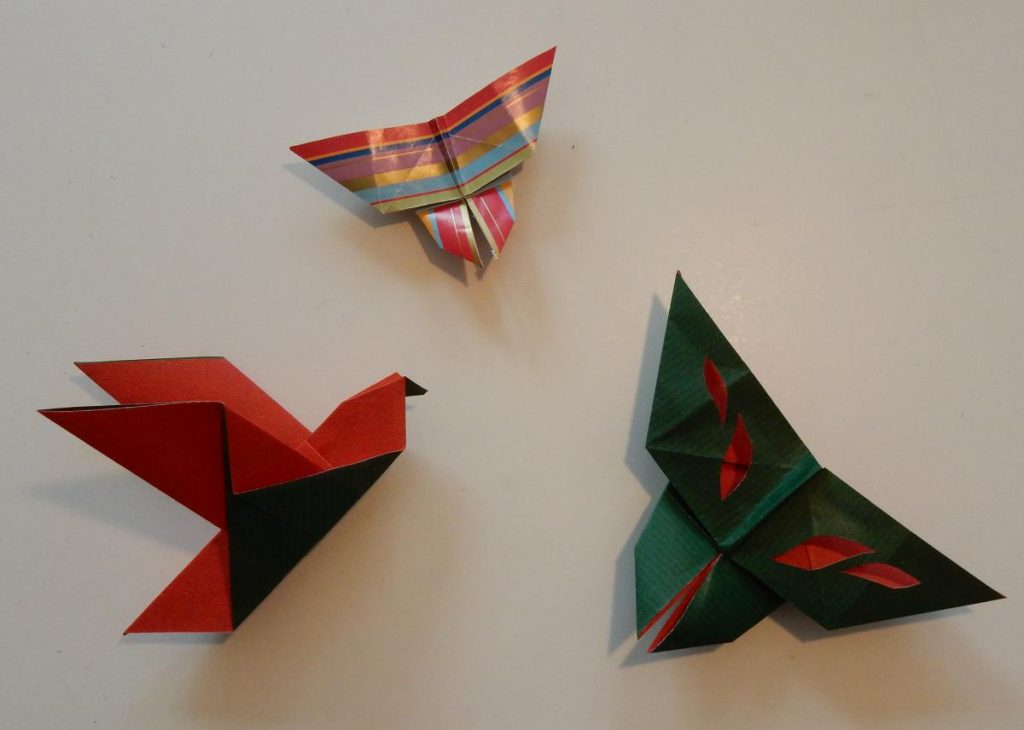 There are lots of free patterns out there, I used this site. This is the butterfly pattern I used, and here's the bird. The butterfly pattern only shows one side of the paper, which is nice for the striped paper, but not optimal for the two-coloured red and green one, so I cut some holes in the top layer of the green butterfly to create some markings.
How to get your contribution to us
If you're coming to Reclamation, that's easy. We'll have a room for this project, where you can drop off your pre-made objects, and where there will be materials to make more if you want. If you want to bring materials to share, we'd be happy to have them, but be prepared to take any leftovers away at the end of the convention. If you can't come, maybe you can give/mail things to a friend who's coming? If neither of those things work for you, let us know by sending an email to crafting@glasgow2024.org and we'll work something out. We'd love it if you add a note with your name and what's behind your contribution.
I hope we'll end up with a colourful tree with many fun, SFF-related details to discover!
This article was brought to you by Constanze Hofmann, Craft Co-ordinator, Promotions Team.

We are the Bid Team for Glasgow in 2024 – A Worldcon for Our Futures. We are part of the vibrant Worldcon community. We would love to welcome you to Glasgow and the Armadillo Auditorium for the 2024 Hugo Awards. Please consider supporting us.