This week, we are introducing Steve Cooper, the bid's financial lead, treasurer and, in his own words, 'accidental smof'.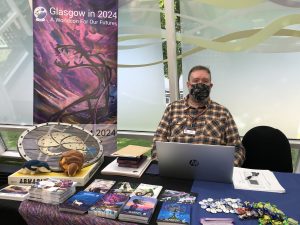 Steve tracks his con career to becoming a Smof, or 'Secret Master of Fandom', a person responsible for planning fannish conventions. Once he became a Smof, and found his fannish home, there was no turning back and there was nothing accidental in his ambition to one day become a WorldCon chair, just a lot of luck and being in the right places, at the right times, that ended with him co-chairing Loncon 3, the London Worldcon in 2014.
So why is he an accidental Smof? It comes from his introduction to running Worldcons.
Worldcons have always been at the core of his fannish activity, from his very first convention (Conspiracy, the 1987 Worldcon in Brighton) through the many years when the only conventions he went to were Worldcons, and his first crack at being on a panel (at Noreascon III in Boston in 1989) that nearly put him off going up on stage for life (but that's another story).
But this story starts in 2001, at the Millennium Philcon in Philadelphia. The Glasgow in 2005 bid was looking for volunteers to sit on the desk, and having a UK accent was a big plus. Whilst helping out he met Andrew Adams – who was one of the senior members of the Glasgow Bid and they got to know each other. Steve is a numbers person, there is nothing he loves more than doing the research and putting together budgets, and tracking the numbers. A perfect trait for the Treasurer for Glasgow in 2024. But numbers were not Andrew's strong point, he was more about the big picture and driving his vision forward. So, once he learned that Steve was keen to get a little more involved, he recruited him to be his budget handler, and generate and track the budget for what was to be his division at the Glasgow Worldcon (Promotions and Publications).
This was going to be a small job that would introduce a newbie like Steve to the behind-the-scenes of running a convention and would allow him to discover if this was to be his fannish home.  Some time between Eastercon 2002 and Ploktacon 2.0 (in June 2002) Andrew resigned from the Glasgow 2005 committee and left a vacancy that needed to be filled. It was at Plotkacon 2.0 that Steve was approached to take over the DH role. And – quite foolishly, he jokes – he accepted, has never looked back, has made a lot of good friends, and has found his home in fandom. So, the moral of this story is don't be put off worrying about failing, there will always be people there to support you and, for Steve, there is no better buzz than seeing a Worldcon come together and knowing you made it happen.
Since then Steve has worked several Worldcons and been on the committee for five of them. And now in his partial retirement from working in Nuclear Fusion Research, he has moved to Glasgow, moving just over a year ago. And that's how he has survived the pandemic – there is nothing like house hunting in a new city to take your mind off external troubles. He has now settled with his husband, John, in Partick, in the West End of Glasgow, looking forward to what will be a great Worldcon, literally just down the road from where he lives. Steve is still working part-time remotely for JET, and has some great stories he can't share publicly! But if he's working a Glasgow table do come along and ask him why every electricity generating station control room has a prominent RED light with the single work JET above it. He's always happy to talk about where we are in the race to obtain a working Fusion reactor.
Steve has been lucky in the Worldcons he's been on the committee for, they've all been great Worldcons, being run by great teams of people, and Glasgow 2024 has all the signs of being the same. He's worked for a great team, who have shown their resilience in how they have pivoted the bid to make the most of being a virtual bid, and he's sure that team spirit will continue into the convention and will run another groundbreaking Worldcon, in his new home town.
We are the Bid Team for Glasgow in 2024 – A Worldcon for Our Futures. We are part of the vibrant Worldcon community. We would love to welcome you to Glasgow and the Armadillo Auditorium for the 2024 Hugo Awards. Please consider supporting us.