Since the success of actual play shows like Critical Role and The Adventure Zone, it is now easier than ever to find a regular D&D game to get involved with without any terrible schedule conflicts – you just have to find the right group on Spotify! If you want to get into D&D as a first timer and are looking for a fun, low maintenance place to start, or simply wanting more content to fill the downtime between your own games, we have some podcast and livestream recommendations for you!
Not Another D&D Podcast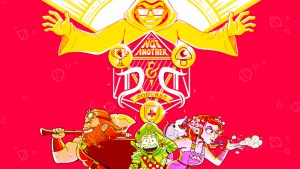 Fans of the popular D&D show Dimension 20 will recognise some of the players in NADPODD, featuring Emily Axford, Jake Hurwitz, Caldwell Tanner and Brian Murphy as DM. Running since 2018, there is a back catalogue of three binge-worthy campaigns for listeners to dive into, but episodes are edited to run between 1-2 hrs, making it a little more accessible than shows like Critical Role. The cast have done several liveshows in Edinburgh, so maybe you can catch up before their next Scottish tour date!
[Link: https://www.naddpod.com/#listen]
Dungeons and Daddies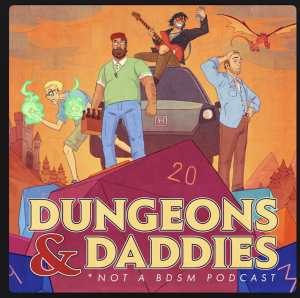 Despite its slightly suspect name, Dungeons and Daddies is a fun comedy D&D podcast, nothing else! The name comes from its premise: four dads from our world are flung into a land of high fantasy and magic in a quest to rescue their lost sons, and in the second campaign, their grandkids are sent to clean up the mess these 'boomers' left behind. Episodes usually run for an hour, so it's perfect for people who want something light-hearted, funny, and easy to get into!
[Link: https://www.dungeonsanddaddies.com/episodes]
High Rollers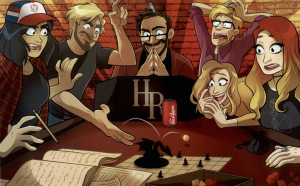 Sometimes called 'the UK version of Critical Role', High Rollers is probably the highest profile UK D&D livestream, available on Youtube, twitch, and as a podcast. This is probably the recommendation with the most content as their current campaign, Aerois, has been running since 2018. It is set in a homebrew world that mixes sci-fi and fantasy tropes with floating cities, interplanetary magic and alien technology.
[Link: https://www.youtube.com/channel/UC3qtZRMtWNaD2Q96STxgOrA]
Behold Her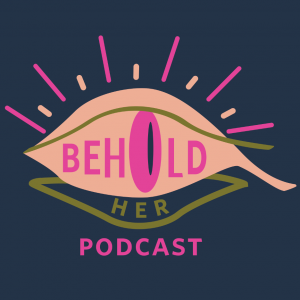 'Behold Her' is not an actual play but non-fiction podcast, aiming to showcase femme gamers and members of the TTRPG community. It is a monthly show that aims to discuss different topics and issues that reflect the experiences of female gamers within the tabletop roleplay community, as well as spotlighting individual creators and their work. They have also run TRPG minigames as part of the podcasting content, for people who wish to try out systems other than D&D!
[Link: https://open.spotify.com/show/3uLsqQh8VZqJ3xk33CDFkb?si=32954040ca0c4ede]
The Dungeon Cast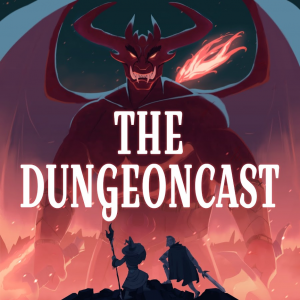 The Dungeon Cast is another non-fiction podcast that is recommended for those interested in learning more about D&D's lore and mechanics, specifically. Their episodes range from basic explanations of lore and rules, to deep dives on specific D&D classes, reviews of new Wizards of the Coast material, and aspects of the official worldbuilding. However, in the more recent episodes the hosts Will and Brian hosts tend to go into a lot of detail about the 5e system, so this might be a show for those wanting a lot of detail, or perhaps advice on playing or DMing for the first time!
[Link: https://www.youtube.com/channel/UCLCL1sXBijYqUmCnTY8fhxg]
This post is brought to you by Emma from the Glasgow 2024 promotions team.

We are the Bid Team for Glasgow in 2024 – A Worldcon for Our Futures. We are part of the vibrant Worldcon community. We would love to welcome you to Glasgow and the Armadillo Auditorium for the 2024 Hugo Awards. Please consider supporting us.