So you've made the decision to attend Glasgow 2024, A Worldcon for Our Futures, but haven't quite taken the plunge and bought your membership. We understand that the process of buying memberships can be somewhat confusing, so we have created a five-step guide of the purchasing process.
Step 1: Visit the 'Memberships and Tickets' page on our website.
Begin your membership purchasing journey on the home page of our website by hovering your mouse over the 'Get involved' tab on the top of the website page. A drop-down menu will appear; double-click on the option 'Membership and Tickets'.
To purchase your membership directly, click on the blue 'Register Now' button on the right of the page.
Step 2: Sign up or log in.
https://registration.glasgow2024.org/login
You will have reached the log-in or sign-up page. If you pre-supported, you might just need to upgrade. To upgrade, use your username and password to log in and check your membership status. If you have not previously signed up, double-click the blue 'Sign Up' button. You will be prompted to create a log-in; follow the provided directions to do so. Once you have logged in, you will reach the membership dashboard.
Step 3: Browse the Membership Dashboard.
Once you've reached the membership dashboard, double-click the orange 'Buy Membership/Ticket' button.
You will be brought to a menu of the available membership types.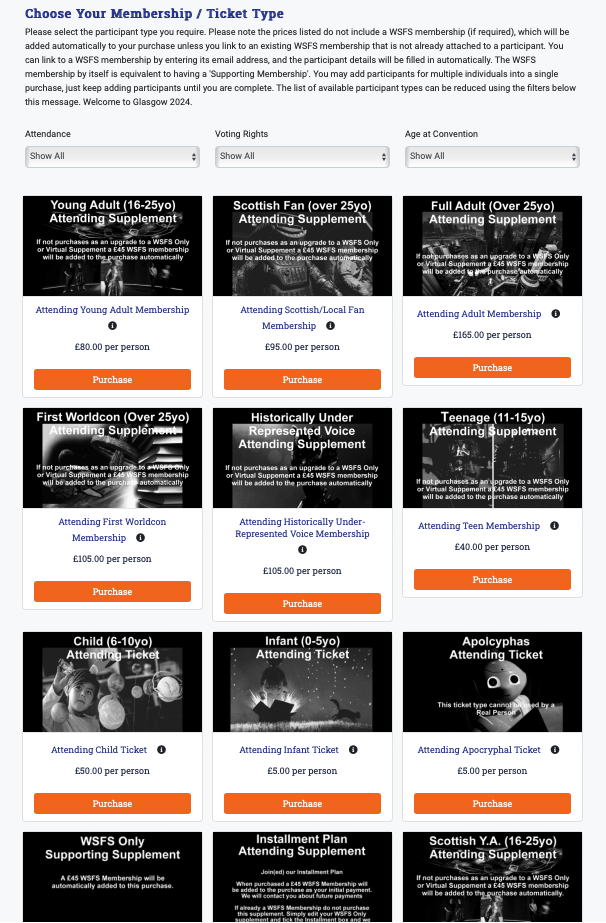 Select the type of membership that suits you by double-clicking the orange 'Purchase' button below the desired tier, and then double-click the 'Add Member/Ticket Holder' button.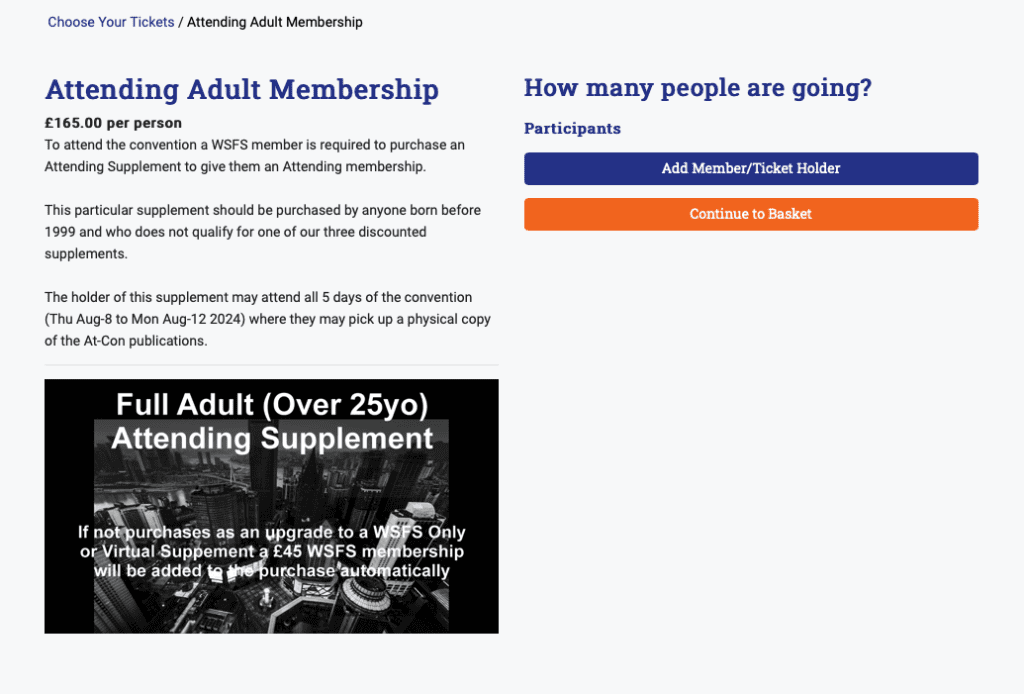 You will be prompted to fill in member details and then click on the button 'Create Member/Ticket Holder'.
*If you pre-supported us, you can also upgrade your membership by selecting the 'Upgrade' button that will show up on your dashboard. If you have chosen to upgrade, you can view your options and proceed to payment.
Step 4: Confirm payment.
Repeat the last two steps for any additional memberships you would like to purchase and click on the 'Continue to Basket' button to start the payment process.
If you have any questions throughout your membership purchase journey please email our registration team at registration@glasgow2024.org as they would be happy to help.
Step 5: Welcome to the Glasgow 2024 community!
Once your payment has been confirmed, you will receive a confirmation email that your membership has been purchased and that you're now a part of our Glasgow 2024 Worldcon Community! Welcome!
This post was brought to you by Matt Calvert, Co-Division Head of Promotions for Glasgow 2024.

The 82nd Worldcon will take place in Glasgow, August 8–12, 2024. We can't wait to welcome you to Glasgow and the SEC/Armadillo for a Worldcon for Our Futures.