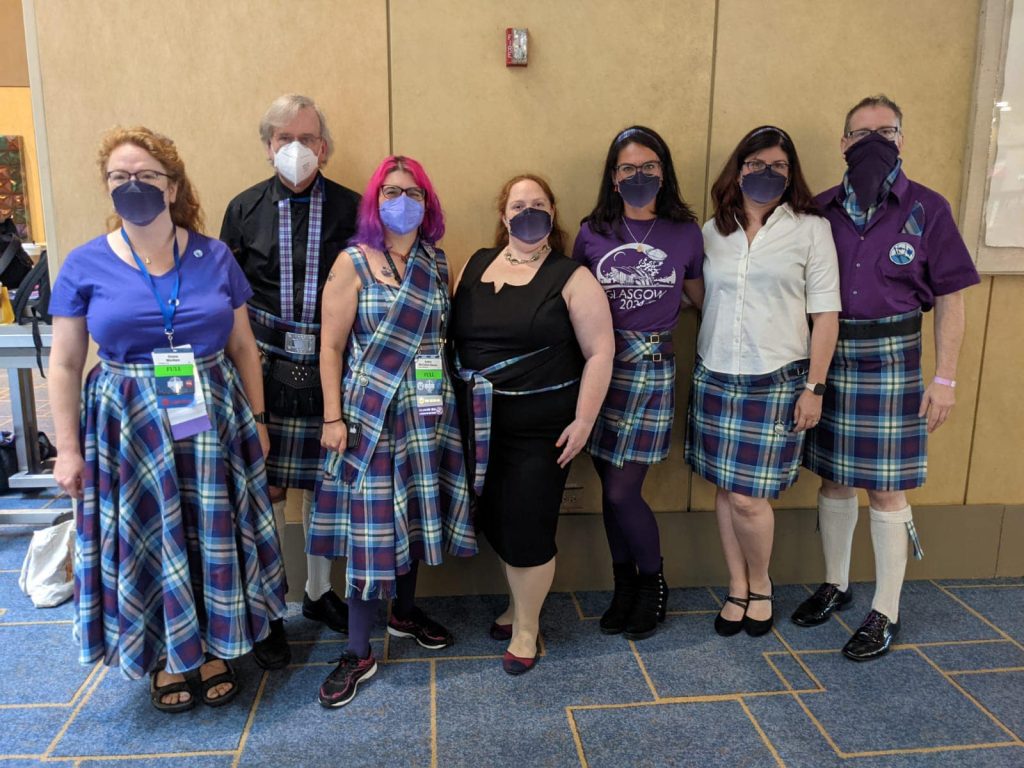 Tartan is a traditional Scottish pattern that comprises two or more differently coloured stripes. Historically, tartan wool clothing was worn by Scottish Highlanders, with particular designs to distinguish each clan. The wool was spun and dyed locally, and then woven and fashioned into kilts and other designs.
Nowadays, there are thousands of officially registered tartans, and people worldwide wear them to show their affiliation to a particular clan, district, or club.
We in Glasgow 2024 are (part of) a special club. We celebrate this joy by registering our very own tartan named 'Landing Zone Glasgow'. This beautiful tartan was designed by Sara Felix, a Hugo-award winning artist. It incorporates the colours of our logo, as well as a metallic silver stripe. We think that it is simply stunning.
Our tartan can be worn by anyone with an interest in Glasgow 2024—A Worldcon For Our Futures.
Weaving tartan from pure new wool is a specialised, traditional craft; it takes time and skill. It is a premium product with a price tag that reflects its quality.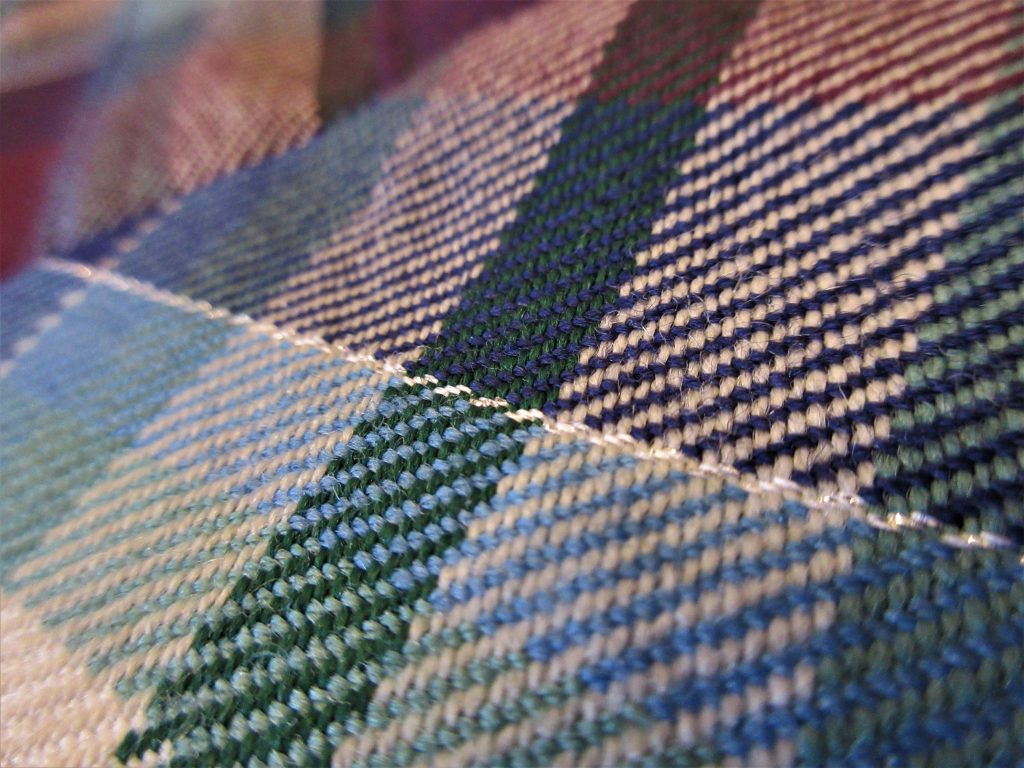 To make the best quality tartan products available to our fans at an optimal price, we have partnered with the 'House of Tartan', in Crieff, Scotland. Over many months, they painstakingly weave the tartan fabric from pure new wool. Then, the fabric is made available for our fans to order their chosen items, or simply to order lengths of the fabric to make up their own items. The House of Tartan produces a wide range of made-to-measure products—from kilts to scarfs, from ponchos to waistcoats.
See the range here: https://www.houseoftartan.co.uk/scottish/binr3.asp?secid=70&subsecid=2234&catid=5123
As of now (late 2023), House of Tartan has a substantial amount of fabric in stock, awaiting your orders.
Depending on demand, we will make a final order for tartan fabric in early 2024—this will be your very last chance to order a tartan item before our Worldcon in August 2024.
Any questions? Please email us at merchandise@glasgow2024.org.
You can also contact our supplier 'House of Tartan' with any questions directly at info@houseoftartan.co.uk or by telephone +44 1764 656671.
Tartan is special. Glasgow 2024 is special. Let's celebrate this exceptional match!
This article was brought to you by Noelle Ameijenda, Deputy Divisional Head in Promotions for Glasgow 2024. Growing up with Star Trek (TNG) and Anne McCaffrey led Noelle into the shady world of Radio Astrophysics at the University of Glasgow. Nowadays she works as a modeller on the national electricity grid, and has been known to dabble in writing space opera.

The 82nd Worldcon will take place in Glasgow, August 8–12, 2024. We can't wait to welcome you to Glasgow and the SEC/Armadillo for a Worldcon for Our Futures.