We hope to bring you lots of different merch so you can show your Glasgow 2024 support in any way that suits you.
If you have any questions about merchandise please email us on merchandise@glasgow2024.org.
Landing Zone Glasgow: Glasgow 2024's Officially Registered Tartan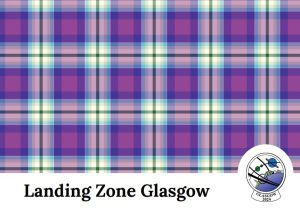 Glasgow 2024 is proud to present our officially registered Tartan, 'Landing Zone Glasgow'.  The Landing Zone Glasgow tartan was designed by bid artist Sara Felix and the colours included in the tartan are dark blue, purple, light green, green, white and light blue.
Our chosen weaver is House of Tartan. Based in Crieff, Scotland, The House of Tartan has been weaving custom tartans for over 25 years. You can order your own kilt, skirt or other type of clothing using the Landing Zone Glasgow tartan via The House of Tartan Website.
Glasgow 2024's own bespoke gin! GIn2024 
We invite you to enjoy Glasgow 2024's very own gin. GIn2024 is created and produced by Pixel Spirits, a Scottish gin and rum distillery set in the scenic grounds of Loch Leven Hotel in North Ballachulish, West Highlands. Founded by husband and wife team, Craig & Noru Innes, Pixel Spirits has been self converted from a traditional A frame barn, with the help of various friends and family members. This is in the core of their values – hand crafted, bespoke and personal!
GIn2024 is rich and zesty, being perfectly balanced with a subtle astringency and refined sweetness. The botanicals used in the creation of GIn2024 are inspired by Science Fiction and Fantasy and they include Star Anise, Buddha's Hand, Star Fruit, Grains of Paradise, Lime Peel, Cassia, Juniper, Coriander and Angelica.
GIn2024 comes in two sizes, a 70cl bottle and a 20cl bottle. The labeling for each was created by our award winning fan artists Iain Clark (70cl bottle: The Suffragette Tree) and Sara Felix (20cl bottle: Armadillo). 
You can purchase both sizes of our gin directly from Pixels Spirits on their website.
Yarn: Skein Dubh and Alba Aether 
The wonderful Lola of Third Vault Yarns has created TWO utterly gorgeous colourways in support of Glasgow 2024.
'Alba Aether' is the first colourway that Lola created, originally for the Glasgow in 2024 bid. It is still available. This variegated colourway is inspired by the artwork created by Sara Felix and by the city of Glasgow.
The name 'Alba Aether' was selected through an open competition which was won by Roisin McLaughlin. We had 80 submissions, which we shortlisted down to five finalists; of these, Lola selected the  winning entry.

'Skein Dubh' is the new colourway that Lola has made for the Glasgow 2024 convention. It was inspired by the colours of our official tartan, 'Landing Zone Glasgow', which was designed by Sara Felix. The Glasgow 2024 team loves a good pun — so when it came time to name our new convention yarn, this one tickled our fancy. The name plays on 'sgian-dubh', a small, single-edged knife worn as part of traditional Scottish Highland dress along with the kilt.

You can order skeins in both DK and sock weights from the Third Vault website. (Yarn specifications can be found on the same page). Purchase your Alba Aether skeins here, and your Skein Dubh here.
We are excited to know what magic you create with your skeins of Alba Aether and Skein Dubh! Please make sure to tag us @Glasgowin2024 in your projects when posting them on social media and join our Ravelry group – Glasgow in 2024 Crafting a Worldcon. (Note: you need to have a Ravelry account to access the group.)
General Merchandise including T-Shirts
We now have a merchandise store!
It's important to us that our art and artists are recognised and we would ask that you only buy Glasgow 2024 merchandise from our official accounts.
Currently we are using Redbubble – although this may change in the future – but we wanted fans to be able to get the new t-shirt designs quickly and globally.
This features shirts and other items with the main convention logo, our new "Landing Zone Glasgow" design by Iain Clark, and our pride logo.
Currently we cannot lock down the colours on Redbubble however we would greatly appreciate it if you kept the background t-shirt for the Glasgow 2024 logo and the new convention t-shirt for 'Landing Zone Glasgow' as purple, and for the Pride T shirt as Purple, White or Black.
Purple is our signature colour. We also recognise it isn't available in all styles – so navy or black would be our recommendations if you want a different style where purple isn't an option. This is another reason we are looking at other options as well as for a larger range of sizes.
Our merchandise partner is Alison Scott's business Stow Shirts, and we're expecting to work with them to bring you a great range of Worldcon-related items over the next two years.
Please let us know if there are any designs you'd love to see on a shirt, or any items you'd love to have Glasgow 2024 art featuring on. Thanks again to our wonderful artists Sara Felix and Iain Clark.