We hope to bring you lots of different merch so you can show your Glasgow 2024 support in any way that suits you.
If you have any questions about merchandise please email us on merchandise@glasgow2024.org.
Glasgow Gimlet
Once you have made The Glasgow Gimlet, and if you feel so inclined, please share a picture of yourself enjoying it by tagging us on your social platform of choice @glasgowin2024.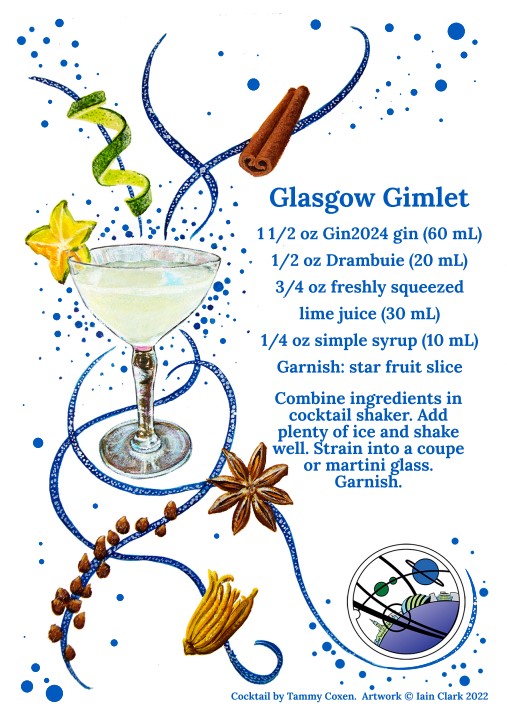 Yarn: Skein Dubh and Alba Aether
The wonderful Lola of Third Vault Yarns has created TWO utterly gorgeous colourways in support of Glasgow 2024.
'Alba Aether' is the first colourway that Lola created, originally for the Glasgow in 2024 bid. It is still available. This variegated colourway is inspired by the artwork created by Sara Felix and by the city of Glasgow.
The name 'Alba Aether' was selected through an open competition which was won by Roisin McLaughlin. We had 80 submissions, which we shortlisted down to five finalists; of these, Lola selected the  winning entry.

'Skein Dubh' is the new colourway that Lola has made for the Glasgow 2024 convention. It was inspired by the colours of our official tartan, 'Landing Zone Glasgow', which was designed by Sara Felix. The Glasgow 2024 team loves a good pun — so when it came time to name our new convention yarn, this one tickled our fancy. The name plays on 'sgian-dubh', a small, single-edged knife worn as part of traditional Scottish Highland dress along with the kilt.

You can order skeins in both DK and sock weights from the Third Vault website. (Yarn specifications can be found on the same page). Purchase your Alba Aether skeins here, and your Skein Dubh here.
We are excited to know what magic you create with your skeins of Alba Aether and Skein Dubh! Please make sure to tag us @Glasgowin2024 in your projects when posting them on social media and join our Ravelry group – Glasgow in 2024 Crafting a Worldcon. (Note: you need to have a Ravelry account to access the group.)