Fandom is generous, and that includes its artists. The Fan categories of the Hugo Awards celebrate the generosity that goes along with an incredible amount of work, just for the fun of it. In the past, I haven't looked closely at the Fan categories, because who has time to look at everything? Turns out I've missed a lot of interesting things, so this year I'm making sure to look at those often-overlooked categories and cast my vote. The full list of the 2020 finalists can be found on the Hugo Awards website.
What would our conventions and fanzines be without art? The category "Best Fan Artist" honours the fans that provide that art. Let's have a look at the official definition:
Best Fan Artist: The final category is also for people. Again note that the work by which artists should be judged is not limited to material published in fanzines. Material for semiprozines or material on public displays (such as in convention art shows) is also eligible. Fan artists can have work published in professional publications as well. You should not consider such professionally-published works when judging this award.
Here are this year's nominated artists in the category "Best Fan Artist":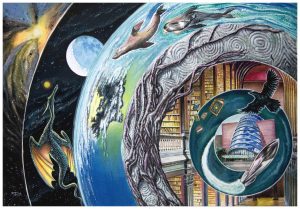 I became aware of Iain Clark's work through the many pieces he made for Dublin 2019 – an Irish Worldcon. He has collected his qualifying works for the nomination on his website, and they're mostly connected to Dublin 2019. My personal treasure from Dublin is the Souvenir Book with Iain's fabulous cover. Another side of his work that impressed me are his portraits. Iain's portraits of characters from The Expanse made me curious enough to start watching the series!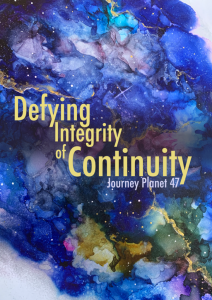 Sara Felix is a mixed media artist from Austin, Texas. She also did a lot of artwork for Dublin 2019. What stuck in mind for me is something different, though: Journey Planet 47 is a fabulous mixture of poetry and visual art, and Sara's cover gives it a vibrant feel! I love Sara's abstract space pictures, but on her website you can find lots of different things to look at, including dragon eggs! Here is her collection of 2019 pieces.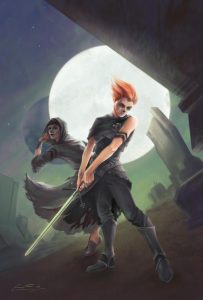 I hadn't heard of Grace P. Fong before I started writing this post and looking at the art included in the Hugo Voter's Packet. But discovering new artists and writers is part of the fun of Hugo voting! Grace is an illustrator and concept artist living in Vancouver, Canada. I particularly liked the illustration for the Strange Horizons issue from February 18, 2019 and the fan cover for Gideon the Ninth. You can explore her work at her Artstation page.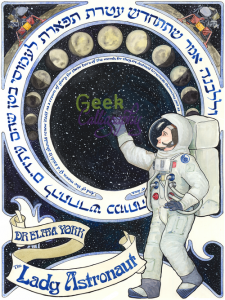 Ariela Housman is the artist behind Geek Calligraphy. I find her work to be a very enjoyable combination of classical calligraphy with geeky themes. She is also one of the people behind The Very Official Dead Dog Art Zine, which is part of an effort to extend the eligibility criteria for Best Fan Artist to artwork that has only been shown online. With "showing your art at a convention art show" not being an option for most of this year, I can only imagine this getting more traction sooner rather than later.
Meg Frank is a long-time fan currently living in New York. They have volunteered for many conventions, including Worldcons. Meg's artwork includes stunning space-themed abstract paintings as well as smaller works in different techniques. They also provided the cover for Journey Planet 45 – The Matrix. You can follow Meg on Twitter as @peripateticmeg.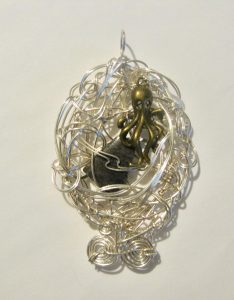 Elise Matthesen is a jewelry artist and a writer. She makes amazing jewelry using bent wire that can include dragons and octopi, books and pen nibs in addition to the more traditional stones and beads. Her pendants and necklace-crowns have been worn at many a Hugo ceremony. Elise has collected a lot of her 2019 work in a twitter thread. She has recently successfully funded a Kickstarter that will allow her to produce a set of video lessons of her techniques. I can't wait to watch the magic!
That's all of them, and I am definitely struggling to bring them into any kind of order for the purpose of Hugo voting. I always marvel at the breath of the artwork done within fandom, and I hope you have as much fun exploring those artists as I had.
All images in this article are used with kind permission of the respective artists.
This article was brought to you by Constanze Hofmann, Promotions.

We are the Bid Team for Glasgow in 2024 – A Worldcon for Our Futures. We are part of the vibrant Worldcon community. We would love to administer the 2024 Hugo Awards for you, from Glasgow.
Please consider supporting us.