"Welcome, welcome! Come one, come all!
Welcome to the fabulous and newly renovated Monbeau Theatre!
Please, if everyone can make your way to your seats,
the play is about to begin!"
You are cordially invited to the opening night of the latest play by the dazzling young playwright, Bertrand Gilliard. Gilliard was catapulted to fame early last year with his debut play, These Twists of Fate, a laugh out loud comedy that had Capital in fits for weeks. Now, he is back with a new creation. All of you have been lucky enough to secure a ticket to the opening night and you are excited to see what Gilliard has in store this time.
The premiere is being held at the Monbeau Theatre, a venue theatre in the heart of Capital with an interesting past. Once a crown jewel of the city, attracting audiences from far and wide, the theatre fell into disrepair a number of years ago with rumors of accidents, disagreements and debts being the cause. However, Gilliard insists that the Monbeau is the perfect theatre for his second play and the city has readily bankrolled the renovations of the once grand building. But what about the play itself? Nobody seems to have any details about it and even the most persistent reporters have been stumped by Gilliard's elusiveness about his latest creation.
You now find yourself eagerly hurrying towards the theatre on this cloudless night, thoughts racing as you try and conceive what Gilliard's latest play, A Night to Remember, could be about . . .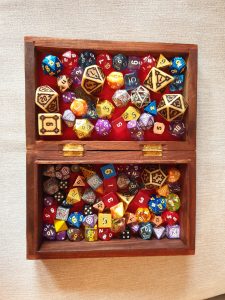 A Night to Remember is a horror-themed, mystery one-shot roleplaying adventure, designed for five characters of level 7 for Dungeons & Dragons 5th Edition. However, the setting and plot can easily be adapted to the RPG system of your choice. Characters will need to risk their lives and sanity to uncover the mystery of the Monbeau Theatre and then make their way back out. For people who enjoy murder mysteries with a small side of horror, interesting and unique boss monsters and non-combative encounters this is the perfect adventure to run on a spooky Halloween RPG night!
You can find this adventure as a glossy game book on our exclusive supporters' page now or you can download A Night to Remember – Printer Friendly! We can't wait to hear about your exploits, which you can share (alongside photos from your sessions) on our socials: @Glasgowin2024 on Twitter, Facebook or Instagram.
This article is brought to you by Alex Wren, a volunteer for Glasgow in 2024 as Social Media Area Head, and a graduate of both University of Glasgow and Strathclyde, recently returned to do a PhD at the University of Strathclyde in Biomedical Engineering. When not pouring her time into Glasgow in 2024, Alex loves to cosplay and build props for cosplay, playing video games, running and playing Dungeons & Dragons. Alex is also the person behind the Gin2024 Rookie's Guide to Games, which you can find HERE.

We are the Bid Team for Glasgow in 2024 – A Worldcon for Our Futures. We are part of the vibrant Worldcon community. We would love to welcome you to Glasgow and the Armadillo Auditorium for the 2024 Hugo Awards. Please consider supporting us.