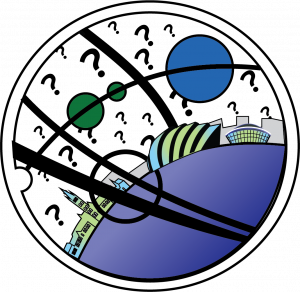 We're bidding to hold a Worldcon in Glasgow in 2024 and we're certain you have questions about it. We are so interested in what your questions are, we have decided to hold a contest to encourage you to send them to our question-answering team, Team Info.
Asking questions of bids is a long-standing tradition, quite apart from being just generally a sensible idea. But don't wait – the bid would love to answer more of your questions sooner, if possible. It gives us longer to benefit from them, especially the more challenging ones. Whether you first heard of Worldcons today, are deeply invested in them without ever having attended one, are already one of the bid's pre-supporters, or have been to dozens of them, please send in questions.
We're looking for questions about Worldcons in general. About Worldcon bids. About how they work and where they come from. About who is involved. About what is involved. About how this potential Worldcon relates to other Worldcons. About Worldcon-related terminology you are unfamiliar with, or feel may be unclear or off-putting.
And we're looking for questions about our bid in particular. About Glasgow and about our volunteers. About where the event will be and what it will be like. About how it's organised and how it's advertised. About what to visit if this Worldcon happens, and what in particular you'd like to see happen at it. About our Code of Conduct or what's missing from our website.
We're looking for serious questions. Ridiculous questions. Sobering questions. Amusing questions. Unexpected questions. Silly questions. Creative questions. Just how varied are the questions we're hoping for? Well, here are the categories in which Team Info, our volunteers who look after the bid's public contact form, will be awarding prizes.
Most unusual question

Most thought-provoking question

Most obvious question not already answered anywhere on our website

Most inspirational fictional question (i.e. How many krakens does the auditorium seat?)

Question which made the Team Info snort their coffee

Most insightful question from someone who's never been to a Worldcon before.
So, please do ask a question or four – enter the contest here!
*************************************************************************************
This article was brought to you by Volunteers in association with Promotions.

We are the Bid Team for Glasgow in 2024 – A Worldcon for Our Futures. We are part of the vibrant Worldcon community. We would love to welcome you to Glasgow and the Armadillo Auditorium for the 2024 Hugo Awards. Please consider supporting us.